DEAD SEA KEMPINSKI RESORT & SPA *****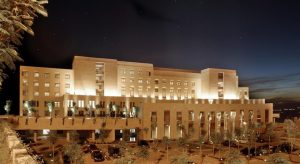 The Kempinski Hotel Ishtar Dead Sea offers three luxurious enclaves set amidst gardens dotted with lagoons, waterfalls and private pools, where ancient olive trees mingle with bamboo palms, providing guests with absolute privacy in a serene and exclusive setting.
Designed in affectionate tribute to the Hanging Gardens of Babylon, the Kempinski Hotel Ishtar Dead Sea is built with local stone boasting 318 rooms and suites within a stylish Arabesque monument building that weaves clean and simple lines into an Arabian theme.
For a more luxurious and exclusive stay, the hotel offers Ishtar Villas (a boutique resort) designed with a tasteful contemporary decor.
All Rooms and suites benefit from stunning views of the Dead Sea with spacious patios or balconies – the perfect places to enjoy the Dead Sea's dramatic sunsets.
MOVENPICK RESORT & SPA DEAD SEA*****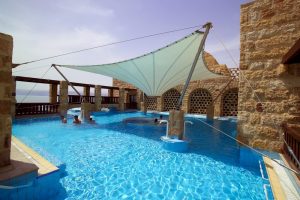 The Movenpick Resort & Spa Dead Sea is found in a traditional village setting nestled amongst lush gardens. The resort is set on the northern shores of the Dead Sea, at the lowest point on earth.
With your well-being and balance in mind, this resort is an oasis of tranquility.Relax into our award-winning Arabian Dead Sea Zara Spa with breathtaking views of the healing waters.
Offering world-class facilities on 6,000 sqm, be sure to experience ultimate spa luxury. A unique revitalizing and therapeutic experience awaits you.
Despite the antique look of the village, all 346 rooms are luxuriously furnished in warm and natural colors. The latest Beach Rooms and Beach Suites are contemporary with modern furnishings and large terraces. Self-controlled air-conditioning, satellite TV, wired and wireless LAN high speed Internet, direct-dial phone, coffee and tea-making facilities, hairdryer, and a safe are standard fittings in every room.
A special benefit is our free mini-bar, available in all rooms.
DEAD SEA MARRIOTT JORDAN VALLEY RESORT & SPA *****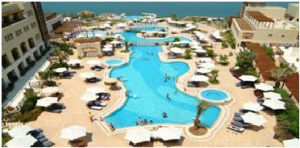 The Jordan Valley Marriott Resort & Spa Dead Sea, Jordan's hospitality ambassador of life's healing grounds is surrounded by rugged purple mountains that subtly change in color as the day unfolds. This is where the spirit of Jordan fills the air and the pulse of history resonates in culture with an endless celebration of life and traditions.
The Resort offers anticipatory and warm service that revives the soul, as well as a self contained blend of modern decor and generous space. Service is unparalleled, anticipating every need and the culinary delights are a pleasure to enjoy. The "Spa" is an integral part of the resort.
It offers a retreat for guests to unwind, relax and rejuvenate and is designed to offer guests a unique experience and to help rebalance the body, mind and spirit. The treatments are specially prepared to invigorate the body and soul. In addition, the Jordan Valley Marriott Resort & Spa is proud to be the first hotel in the Middle East to switch to solar panel energy for hot water.
HOLIDAY INN RESORT & SPA DEAD SEA****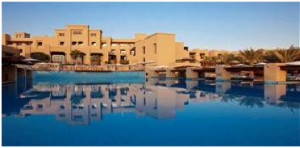 A trio of interconnecting, palm-fringed swimming pools leads from our contemporary Arabesque-style hotel to the warm therapeutic waters of the Dead Sea. Enjoy sea and mountain views from the balcony or terrace of your air-conditioned Guest room and indulge in mineral-rich Dead Sea salt treatments in our luxury spa.
You'll find the family-friendly Holiday Inn Resort Dead Sea just 40 minutes by taxi from Queen Alia International Airport. Relax with a complimentary drink from the minibar as you take in views from your balcony or terrace.
You can check email with complimentary high-speed Internet and watch satellite channels on the flat-screen TV. Air conditioning keeps you cool.
DEAD SEA SPA RESORT****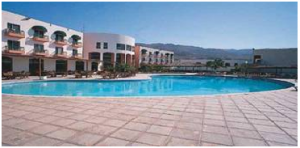 The Dead Sea SPA Resort is treatment resort, situated at (408 m) below sea level, the lowest spot on earth. The hotel is ideally located at about 408 meters under the sea level. It's one-hour drive from International airport and 45 minutes from the Capital (Amman).
Heading from airport Highway the Dead Sea area is marked clearly and once you arrive to the Sea from the north, the Hotel can be seen immediately. The resort has 275 rooms.